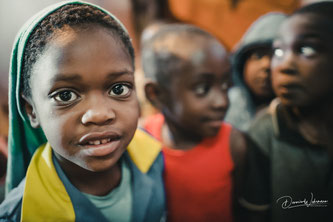 Faces of Namibia is my new portrait project. Here I'm telling you the stories behind the scenes of individual photographs. What I have experienced and felt in this particular moment and the thoughts these people have triggered in my mind.
I hope to create a more complete picture of the photograph and the individual with this project. Any thoughts are much appreciated as comment!
This guy is one of the mineral miners of the Hohensteinfels, which is more than 1.800 m high and the highest mountain in Namibia and therefore higher than Spitzkoppe. We were on our way in a game drive vehicle to the edge of the mountain where we wanted to start to hike to visit the mineral miners.
We decided to pick up this miner who was on foot with 10 liter of petrol and food in the midday heat of 35 degrees with his cap (against the sun, not he cold). I used the opportunity to talk to him and ask him as much as possible about his live as a miner, mining in general, his country, his desires and his concerns.
You just have to look in his eyes and have in mind that these guys drill wholse of not more than 1 m diameter for years until they reached a depth between 50 and 100 m, always hoping for the one lucky mineral pocket which makes them rich or at least enables them to provide for their family. These guys live on the bare stone in cages or small tents somewhere in the Hohensteinfels without any further security or help.
These man deeply impressed me, their live if even more tough than I can imagine and still they give you an honest an descent smile, at least most of them – some are also lost…
This guy was one of my first challenges and many more were to come. We were at the Brandberg filling station as one of our tires had a puncture. During the waiting time each and every stone seller approached us and tried his luck. Money was of course out of scope, but food was discussed in detail. He tried to get everything and as much food as possible from our car and moreover he was able to chat me up and convice me to buy him a can of fish on top. The Herero lady behind the counter was only shaking one`s head.
I still remember this man with good feelings, even as he was only playing his role – a special role for every different tourist. But I was also playing a role, a different role for every local to show me something special in front of my lense…
Visiting the Himba tribe in the northwest of Namibia close to the angolan boarder was one of the main reasons for this year`s trip to Namibia. Besides that I wanted to drive all the way north to the Epupa Falls on my own. The Himba are indigenous people as well as the San who used to live in the Kalahari. The main difference between both is that the San were hunters and collectors and the Himba are cattle breeders and therefore still partially be able to live a traditional seminomadic life. Many documentaries and photographs show a rather romantic picture of the Himba, which is not always necessarily the case. 
Besides that new technologies as the Internet and Smartphones don`t remain hidden as well as the abuse of alcohol. The region is currently facing a series draught for many years and nearly all the cattle has dies. As a consequence many Himba don`t have anything to do and don`t know what to do the whole day. One of the self evident easy answers is nothing but drinking. Besides that it is easy to beg tourists to give them money as there are enough. 
In more rural areas the Himba do still live quite isolated and look very skinny, especially compared to the ones who live close to Epupa and developed skills to live from tourists. 
Of course I´m part of the problem as a tourist. If I visit a Kraal and bring food or give them money I engage them to beg even harder. Besides many wonderful experiences with the Himba, the Himba culture is also disenchanted for me. As always reality is more complex than expected and easy solutions are a fairy tale. Please feel invited to visit the Himba on your own and form an opinion on your own.
Have a deep look into the eyes of this boy from Katutura Township in Windhoek, I couldn`t tell you more…
I met this little boy in a kindergarden in the township of Katutura in Windhoek Namibia. We just arrived in Windhoek in the late afternoon and were already sitting at the back of an old Land Rover Defender and in the middle of Katutura. It is hot and windy and all the different  still strange smells are around me and I´m getting drawn into Africa and into Katutura. One moment before I was still a European in Europe and right now I´m a white guy in a black township. The next moment the defender stops directly in front of a kindergarden and seconds later I´m surrounded by a crowd of kids inside, curious and friendly kids – some curious because of my skin colour, some as I´m a complete stranger from far far away and some because of my camera in front of me. Everybody was running around me, coming close directly in front of the lense, because nobody knows how a camera works, but everybody wants to come close and try to understand how the camera works and of course all oft hem want to see the pictures.
But one boy is different his facial and hand expression is still a mystery for but. He has that certain something, he is different, I don`t know why, but he clearly is. He is one of many living proofs to me, you can achieve everything what you want to regardless of origin. I do have that feeling that this kid plays an important role in the future and he will know how to play…
What do you see while looking into the deep eyes of this kindergarden girl. A girl living in the township of Katutura in Windhoek – poverty, desperation, discouragement? I do see intelligence, hope and curiosity and this gives me hope for this young African generation. Hope for a better education and hope for change for the better. All the best for you little girl, you deeply impressed me…
That little boy lives with his very young mother in the Kaokoveld close to the so called "Red Drum", which is located more or less in the middle of nowhere – nowhere because of no medical care, no schools and currently also no food because of a serious draught.
Future prospects for this little boy are far away from good. But even with this poor prospects he survived until today. Growing up in a semi arid area with a constant lack of water and food forces you to grow up quickly and become an adult soon.
His eyes already tell the story of hostile life conditions, but they also tell the story of a strong boy who wants to survive, who wants to live, to feel and to be happy in his life at the end of the world at the Red Drum and for sure he will fight for it… 
If you want to learn something about life you just have to look him into the eyes. Senior man and women living in desert or semi arid areas do have a special wisdom, freedom and calmness in their eyes which I can`t explain, but which I deeply feel and adore. There seems to be a secret about life I haven`t still fully understood, I do have a faint idea but can`t really absorb it. The good news about this conclusion is, that I have to go back again to the desert and semi arid areas in Africa, these places which taught me so much about myself and life…
Finding a Heero women in her typical dress is not too difficult, if you are in the correct part of Namibia. However finding and photographing is sometimes a bit different and mostly connected with money or buying some souveniers.
This shot was a lucky coincidence. We were driving on the Pad D3707 – the Himba Highway - in the Kaokoveld, we were heading west to Opuwo after a coupke of wundeful nights at Etambura. Close to the village Kaoko Otavi we were lost. The Pad couldn`t even hardly been seen, especially not in the dry riverbed.
We crossed a kettle post and a view Herero women, man and children were sitting in their typical clothes in the shade under a tree. I stopped the car, jumped out and asked them for destinations. In the beginning they were kind of confused and reserved especially as English seemed not very familiar tot hem. I was wondering as our car definately wasn`t the only car around in years, but it doesn`t seem to be very common that tourists stop and start to chat with them.
After a while I knew we were not lost and which way to go. I thanked them and asked if there is anything I can do for them. Surprisingly even they, owners of quite an amount of kettle, asked me for food and water. The current draught was indeed serious. I grabbed water and food from the car and everybody started to eat immediately.
The ice was broken and I had the opportunity to take some very honest shots of this Herero group, shots I´m really happy with…
Sometimes everything necessary is being in the right place at the right time. We were coming from a morning Himba tour with our guide in our own 4x4 and just arrived in the village of Epupa for some diesel. Epupa doesn`t have a filling station, but our guide knows somebody with a barrel in his flake and who is willing to sell us some diesel fort he double price – a fair deal, if you are running out of fuel. I just finished holding a plastic five liter water gallon on top of a sliced open 1.5 litre water bottle which we used as filler neck. Of course our car attracted some attention and of course because of our guide everybody was familiar with us. I was just standing there a couple of seconds with my diesel water bottle surrounded by children, when this little boy appeared and stopped 1.5 meters in front of me not stopping to inspect me intensily. I just got down on my knees raised my camera and replied his inspection. The result is this photograph, a photograph which I was dreaming of for a long time, especially because of the wood on top of his head, it couldn`t be better…
I would have never expected that my youth history of blowing up my rose water destilation process in my children`s room and the consequence of a huge spot on the ceiling would give me the opportunity to take this shot. I am in the village of Epupa Falls in Namibia and directly at the Angolian border. I just have visited the "cash cash bar" of this man. It is Sunday morning and the bar is quite crowded with guests who are more or less all sharing one or two beer`s in alternating rounds. Right now I´m standing outsie of his bar in the heat, the sun is burning merciless. Beside me are two old oil barrels, which he uses for distilling hard liquor. He is deadly serious and very proud oft he only destilation unit in the whole village. Only after I have told him my story he gives me a commendable smile…
A penny for her thoughts…
I met this woman far away from everything in the middle of the Kaokoveld, a very remote area - the red drum (6G3F+G6 Ombawe, Namibia) - next stop van Zyls pass. We drove close to three hours to manage the drive 30 km drive from the Etambura Camp to the red drum. Not an overcrowded area, every visitor writes his name on a stone to proof that he made it so far.
For the Himba this is their traditional homeland, it doesn`t matter how remote the area is, they have donkeys which they use as caravan to cross their land.
This woman and young woman must have seen our dust cloud from the distance and appeared shortly out of nowhere at the red drum with her sun. She doesn´t speak any English, but it is obvious she wants to sell us some necklaces. She is very shy and reserved. But some Polaroid photos of herself and for her own changed her and she became a bit openhearted.
The photo is saying more than a thousand words – the hard life of a young mother in the middle of nowhere, with nothing not even enough food to eat. But she is strong and her eyes are positive, she is alive and she loves her live – doesn`t matter how hard it is…
Visiting a traditional Himba Kraal was the main intention for traveling by car far into the north and deep into the Kaokoveld to Epupa Falls at the Kunene river, the boarder to Angola.
Visiting a traditional indigenous Himba tribe was an existential experience for me, not necessarily in the way described in travel guide books, but with many many memories – positive and negative. From the media I was mostly aware of positive impressions, which were also the reasons why I went on this journey and I didn`t got disappointed and additionally I found many things which were unknown, strange and not logical for me as a European and it is important to understand that the Himba are not European and that these are my personal prejudices which I have to get rid of, to give me the opportunity to understand their culture at least a tiny bit better.
After the usual distance was broken we had an awesome morning and I learned quite a lot – most impressed me the pride in their culture and their open-hearted and hones smile…
---
---